One of the oldest (founded in 1938) and today, the largest figure skating club (with more than 1400 members) in the US, the Washington Figure Skating Club (WFSC) was organized principally by Dr. Christoph Meyer to support skating activities at the Riverside Stadium (now the site of the Kennedy Center along the Potomac River) in Washington DC.  
In 1941, the WFSC moved to the Ice Palace in Chevy Chase, MD and merged with the Skating Club of Washington. A few years later, the Ice Palace was sold and became a radio/TV station so the WFSC was looking for a home rink once again.
Today, the WFSC sponsors skating activities in more than 9 rinks throughout the metropolitan DC/Maryland/Virginia (DMV) region. The WFSC has a longstanding tradition of excellence in competition with Olympic/World competitors including Ann Davies, Carleton Hoffner, Don Laws, Carol Ann Peters, Daniel Ryan (who was lost in the 1961 crash), Michael Weiss, Derrick Delmore, Ashley Wagner, Armin Mahbanoozadeh, Michael and Rachel Parsons, Lorraine McNamara and Quinn Carpenter, and most recently, Ilia Malinin.
The club has a rich history of judges and officials including Phyllis Farrington Howard (former USFSA president and longtime referee/judge), John LeFevre (former USFSA executive director and judge), Rhea Schwartz (USFSA asdult skating program), Dorothy Dodson, Florence Sifferd, Beverly Kimes, Patsy and Ed Picken, Judy Quiesser Reiner and Connie Povich. The club sponsors several competitions including the New Year's Adult, the Picken Dance Classic and the Potomac Open and hosts countless test sessions to further the skills of figure skaters. The club also sponsors two synchro skating teams, DC Edge and Ashburn Ice Angels as well as the Ashburn Theatre on Ice Team. The club hosted the 1950 National championships, the 1974 and 2016 South Atlantic Regional Championships and the 2003 World Championships held very close to the original WFSC rink that started it all in 1938.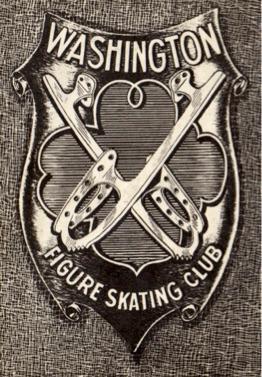 WFSC original logo